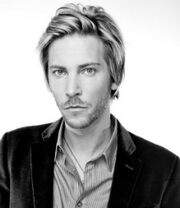 Troy Baker voices and performs motion capture for Talion in Middle-earth: Shadow of Mordor and Middle-earth: Shadow of War.
Biography
Edit
Troy Baker was born on April 1, 1976 in Dallas, Texas, USA. He has been married to Pamela Walworth since 2012, and was previously married to Kimberly Beck.
Notable Works
Edit
Booker DeWitt in Bioshock: Infinite
Joel in The Last of Us
Kanji Tatsumi in Persona 4
Delsin Rowe in Infamous: Second Son
Two-Face and Robin in Batman: Arkham City
Male Voice 1 in Saints Row: The Third and Saints Row IV
Prosecutor Simon Blackquill in Phoenix Wright: Ace Attorney - Duel Destinies
The Joker in Batman: Arkham Origins and Batman: Assault on Arkham
Kizi10.in games on video Celebrity
Sergeant Matt Baker in Brothers in Arms: Road to Hill 30, Brothers in Arms: Earned in Blood and Brothers in Arms: Hell's Highway
Community content is available under
CC-BY-SA
unless otherwise noted.