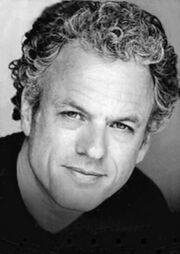 Alastair Duncan is the voice of Celebrimbor in Middle-earth: Shadow of Mordor and Middle-earth: Shadow of War.
Biography
[
]
Alastair Duncan was born in Edinburgh, Scotland, UK in 1958. He debuted in TV film The Hounds of the Baskervilles (1988), opposite Jeremy Brett playing Sherlock Holmes. He did some feature films and made a guest appearance in few TV series, until he made a small breakout in low-budget, but darkly atmospheric Split Second (1992), opposite such actors as Rutger Hauer, Kim Cattrall, Michael J. Pollard and such British talents as Pete Postlethwaite and Alun Armstrong. He continued with guest roles on TV series and he acted in other films as War Dogs (1994), Trick of the Eye (1994)(TV), Dazzle (1995) (TV) and Tower of Terror (1997) (TV), opposite Steve Guttenberg, Kirsten Dunst and Nia Peeples. From the start of 2000s, he began a voice over work on video games and some animated features. He did voices in such video games as Warlords Battlecry, Legacy of Kain: Defiance, Star Wars: Jedi Knight - Jedi Academy (as Reborn), The Hobbit, Killer7, Rainbow Six: Lockdown, X Men II Legend: Rise of Apocalypse, Tomb Raider: Legend, Lara Croft Tomb Rider: Anniversary (Qualopec). Pirates of Caribbean: At World's End, and Mass Effect. He guested some more on such TV series as "Charmed", "The Grim Adventures of Billy and Mandy", "Mad Men", "Diagnosis Murder", "Angel" and others. Most notably, he took over the voice over of Alfred in newest animated series "The Batman"(2008), just like in TV cartoon Batman VS Dracula (2005), here Batman voiced by Rhino Romano and Dracula is voiced by Peter Stormare.
Duncan is married to actress Anna Gunn (Deadwood, Enemy of the State), and they have a daughter Emma.
Notable Works
[
]
DS Peter Livingstone in Taggart
Appearance in The Hound of the Baskervilles
The science fiction film Split Second
Guest roles on War Dogs, Trick of the Eye, Dazzle (1995) and Tower of Terror
Legacy of Kain: Defiance
Tomb Raider: Legend and Tomb Raider: Anniversary
Mass Effect
Final Fantasy XIV
Metal Gear Rising: Revengeance
God of war (2018)