True, but I still like the lore to be referenced in all the small things. Like the references to the Blue Wizards in the first game. 
Also, not sure if all of this is true, but the inscription on the New Ring of Power is obviously different from the old one. Someone on the Subreddit claims that it reads "I will redeem the Land of Shadow". If we have any good translators in our midst, feel free to correct me! :P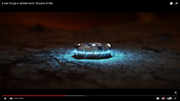 Oh, and Gollum is in there too! 
And last but not least, I'm curious where these new soldiers are from. The emblems on their armour resembles Talion's Ranger emblem (which incorperated both the Black Gate and the White Tree of Mordor).
The new soldiers seem to have a 8-pointed-starshape on their back, along with something towering above it (a cave entrance?). My guess is that it either refers to Cirith Ungol ("the Spider's pass" --> 8 spider legs and a tower) or Minas Morgul (the typically glowing star-shaped fortress from the movies). Cirith Ungol seems more probable as it parallells Talion's guard duty at one of Mordor's borders. A cave entrance + 8 pointed (8-legged) star would immediately point me to Cirith Ungol and Shelob's Lair. 
A bit early for trailer analysis perhaps, but I do like all the details it offers ^^