The premise of this series is to record the rather interesting and noteworthy interactions between Gravewalker and orc. This will be a public series feel free the make some of your own entries into this series...
Enter Hûra Plague-Bringer.
~ Introduction
It goes without saying that this orc and any orc similar in name, title, and appearance just look badass. I get the vibe that he'll inject me with fear toxin like the scarecrow from batman. Combined with his dialogue which all revolves around poison, putrescence, and pestilence often makes remakes that he'll poison and spoil his opponents who are considered pure and unspoiled. He is also one of the most effective uruks I have ever come across and he is exceptionally quick and agile which combined with vault breaker he can make for an annoying target to combat. Ironically enough he is terrified of caragors which is quite hilarious regarding his class traits and immunities. He is beast proof, his advanced class is a tracker, and he is a trapper so it is vexing why he is terrified of caragors. Now as for backstory I have little to go off of as I will have stated in the "Acquisition" section of this post. The little and I mean very little I have to go off of is that he betrayed me some time into taking him out of may garrison and I reclaimed him.
~ Acquisition
Now things could have gone down an icy cliff real quick because I got this guy due to an online vendetta. Now if you are familiar with the activities you would understand that you only get one shot and one opportunity to either kill them or dominate them. If you fail then oh well better luck next time and you will never see them again potentially for an entire playthrough or several.
~ Dialogue
As I have stated already Hûra has some cool dialogue that nearly all of it relates to poison and pestilence.
Upon interacting with Gravewalker
"Fleshbag! You will feel the sting of my fang. You will feel the burn of my venom, searing through every fiber of your body! You will be infused with my corruption!"

"Fleshbag! You gave me the taste of this glorious corruption. Forced the cloying poisons down my throat. And now that I have chocked down my fill, I vomit this putrescence back upon the world! Upon you! Upon all!"

"You stand before me pristine, unspoiled, untouched by blight or foulness. Do not worry... I will transform you."

"Breath it, drink it, feel it! Bask in the glory of my pestilence!"

"Fleshbag! When I'm done with you. We'll still be feasting -- on the ripe, contaminated carcass you leave behind."

Now, this one is my favorite! "Manflesh for all! Awrooooooo!"

"Fleshbag! Do you know what this maggot said to me? Said any warrior worth his salt could resist my poison. Well, let's see what you're worth."

"A gang's nice, but I've got something better: a pack."

"Fleshbag! Brought your friend, did you? Won't make a spit of difference!"
Upon being taken down
"Slaughter me. And from my festering corpse will rise and billowing stench so powerful you will never escape it."

"Come closer, Gravewalker. Breath deep."

"So my life ends. But the vile cloud that clung to me merely shifts, taking new forms, and still it will follow you."

"You will never rid yourself of me. Days and years across forever, still you will taste my reek."

"Cheating shrakh! I'll come back to haunt you from the grave!"

"Go on then. Kill me all you like. And you do like it, don't you? You men think you're better than us."

"You ain't heard the last of this, you scum!"

"You're making a big mistake, Ranger. The Uruks will be avenged!"
Upon taking part in a mission
"Nothing will stop the spread, the growth, the rise of my pestilence!"

"Now we are all here. Now it is the time to spread the corruption."
Upon interrupting his mission
"We've been planning this raid for weeks! You are not going to spoil it!"
Now, something to say about either shaming or the added bonus of worse than death is that the cause of being deranged is so vast that I would have to shame Hûra which I don't want to do because he is the best uruk I have ever come across or scour the internet and find every potential saying for being deranged which would take hours. So I have taken the liberty of finding an Ikiga video where he has a similar orc named Mûg the Blight and he deranged him so I'll give you a taste of what his corruption looks like.
Ikiga's Mûg the Blight deranged
"My face. Look at my face! Look at it! Look at my face!"

"You looking at my face? Looking at my face. you looking at it?"

"Look at my face, my face, the face you gave me! Look at my face!"

"Face me! You scarred my face, poisoned my face, mutilated my face, ruined my face! Look what you did to my face!"
~ Gallery
Dark Lord's Army.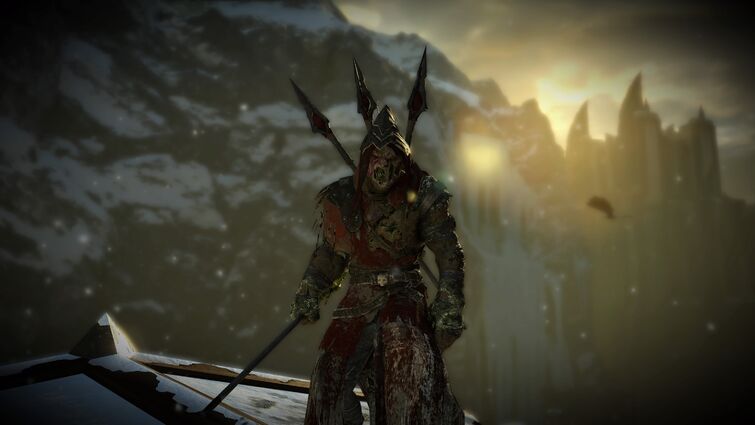 Bright Lord's Army.
~ External Sources used